Atmiyata is an innovative & evidence-based community-led intervention to reduce the mental health and social care gap in rural communities.
The World Health Organization has listed Atmiyata as one of the 25 good practices for community outreach mental health services around the world. To know more, click here.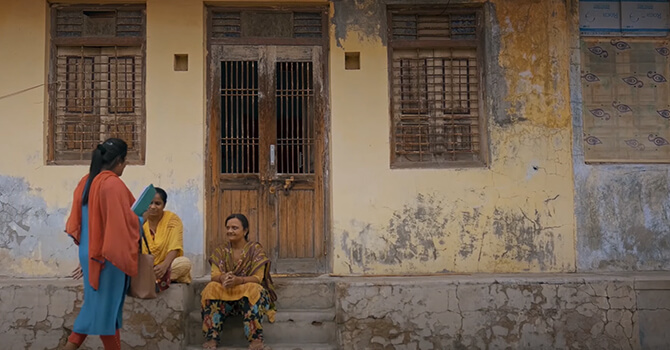 Why Atmiyata?
In India, approximately 10.6% of our population, i.e., 150 million people have a mental health condition. The National Mental Health Survey (2016) shows that there exists a large mental health care gap where  70-92% of people in need of mental health care and treatment cannot access the same.  This is contributed both by demand (stigma, discrimination, structural & social barriers) and supply-related factors (lack of trained mental health professionals, poor quality services, bio-medical approach of care). This mental health care gap is particularly large in rural mental health care that condemns millions to poverty, isolation, ill-health, disability, and loss of human potential.
While models for mental health care involving lay-health worker have proven to be effective in controlled trials, there is limited evidence on the effectiveness and scalability of these models in rural communities in low- and middle-income countries. Atmiyata aims to bridge the mental health care gap by using a psychosocial model delivered through community volunteers to identify and support persons with distress.
How are we addressing the issue?
Atmiyata involves two-tiers of community volunteers for identification and support to people in distress and with symptoms of common mental conditions. The first tier consists of community volunteers called Atmiyata Mitras who are from different caste and religion-based sections of the village, trained to identify persons in mental distress.
The second tier consists of Atmiyata Champions, who are important community members (e.g. former teachers, community leaders) with leadership and communication skills and are well-known and approachable in their village. Champions are trained to identify and provide structured mental health support to persons with significant mental distress, including the ones referred by Mitras.
Given the social barriers based on caste, gender and religion, the identification and support by Champions and Mitras ensure equitable reach and improves coverage of the intervention across the entire village.
The Champions are trained, mentored and supervised to conduct 4 activities:
(i) Identify persons with common mental health conditions and provide evidence-based 4–6 mental health support sessions.
(ii) Raise community awareness on social issues by 'narrow-casting' four 10-min films that are based on commonly experienced social issues in the community such as unemployment, family conflict, domestic violence, and alcohol-use. These are dubbed in the local language and viewed by a group of 3-4 community members at a time. These films are shown on the Champion's smartphone either at a public space in the village, such as a temple or a farm or the Champion's house. These films have been developed to build community mental health awareness and are not designed for training purposes or for intervention delivery related to counselling or symptom reduction.
(iii) Refer persons with severe mental health conditions to mental health services offered within the public health system, when required.
(iv) Enable access to social benefits for persons with mental health problems, such as government schemes for paid work opportunities etc.
What is the potential impact?
Atmiyata is an acceptable, feasible intervention that enables the community to address their own mental health and social care needs. It is a large rural community-led intervention that systematically evaluated its impact in real life settings, at scale. The results will be available under the publications as soon as it is published.
During Covid-19, Atmiyata's training sessions were adapted and offered to volunteers of various organizations working on peer support, livelihood and public health organisations to increase psychosocial support across communities.
Atmiyata was nominated for the SKOCH Award 2019.
Atmiyata aims to scale-up the intervention across geographies and location to maximize the mental health and social care impact in rural communities.
Where have we reached?
From piloting the intervention across 40 villages in a district in Nasik, the intervention was scaled up to cover an entire rural district in Mehsana, Gujarat. Currently, the intervention is being implemented in 525 villages in rural Mehsana, covering 0.8 million adult population. The intervention continues to expand its reach and coverage, to particularly reach out to marginalised and vulnerable communities.
As of October 2021, our community volunteers have reached out to 28,509 people with common mental health conditions by providing 4-6 mental health support sessions. In addition, 2,782 people with severe mental health conditions have been linked to public mental health services, 6,638 families were linked to social benefits and welfare schemes, and 63,438 people viewed Atmiyata's films.
In 2019, the intervention expanded its reach by collaborating with a partner to cover 71 villages, covering one lakh adult population in Ahmednagar district, Maharashtra.
In 2021, we partnered with Ambuja Cement Foundation to extend Atmiyata's reach across 101 villages in Maharashtra, Chhattisgarh, Uttarakhand & Himachal Pradesh.
In 2022, we entered into a partnership with Hasiru Dala, a social impact organisation working with waste pickers, to pilot the Atmiyata intervention in Bangalore's urban slums.
Project Leads
Co-leads
Kaustubh Joag, Centre for Mental Health Law & Policy, ILS, Pune
Jasmine Kalha, Centre for Mental Health Law & Policy, ILS, Pune