The Atmiyata Course: Providing Evidence-based Mental Health Support
The Atmiyata course is designed for people who want to provide mental health support using evidence-based techniques. It is particularly relevant for people with lived experiences, care providers, teachers, educators, mid-level to senior managers, team supervisors, HR professionals, self-motivated individuals, general medical practitioners, mental health professionals, non-profit organisations working on mental health and allied fields such as gender, caste, livelihood, other physical health conditions, and others.
Over three weekends, participants will learn more about:
(i) common mental health conditions
(ii) active listening, behavioural activation, problem solving, and relaxation techniques, and
(iii) self-care
This will be followed by a group check-in session (2 weeks post course completion) where participants can share their experience of applying their learnings to real-life situations. To know more about the individual modules and sessions, please refer to the section 'course structure'.
The curriculum for this course is drawn from Atmiyata, our community-led intervention to improve access to mental health and social care in rural India.
In 2021, the World Health Organization listed Atmiyata as one of the 25 good practices for community outreach mental health services around the world. To know more, click here.
This intervention was scientifically evaluated, and based on its encouraging results, we aim to adapt and disseminate our learnings to a wider audience to make mental health support accessible to all.
Participants who successfully complete the course will receive a certificate from the Centre for Mental Health Law & Policy, Indian Law Society, Pune.
This is an ONLINE course. Classes will be conducted on weekends between 10:00 AM to 1:00 PM IST. The medium of instruction is English.
The current batch is for Indian residents only.
Please note: This course is meant to enhance one's capacity for self-care, informal mental health care and support to one's family, friends & colleagues. It does not equip, qualify, certify or recognise one as a clinical psychologist, psychotherapist, or any other mental health professional for providing clinical, diagnostic or therapeutic services to persons with mental health issues.
Learning Outcomes
This course will equip you with:
An understanding of mental health and mental health conditions
Evidence-based techniques to reach out to persons in distress (Anxiety & Depression)
Techniques for self-help
Conceptual & practical knowledge of tools to provide mental health support
Course Structure
The total duration of the course is 20 hours, divided between 7 days. These are spread over 3 weekends with each session lasting 3 hours. This will be followed by a 2-hour group check-in session, 2 weeks post course completion.
This is an ONLINE course and the medium of instruction is English.
Interactive: The sessions include case studies and role plays followed by a feedback session.
Individualised: Each intake has a maximum of 12 – 15 participants to ensure they receive adequate support and attention through the learning process.
Engaging: Participants are provided with reading material and workbooks to anchor and improve the experience of learning online.
MODULES
Module 1: Mental health is a spectrum
Understanding mental health, stress, and distress
Coping mechanisms
Module 2: Knowing more about common and severe mental health conditions
Common mental health conditions: Depression & Anxiety
Severe mental health conditions and referral pathway
Understanding grief
Module 3: Knowing more about suicide
Overview of suicide and referral pathway
Module 4: Knowing more about social determinants of mental health
Impact of socio-cultural factors on mental health
Module 5: Qualities of a good mental health supporter
Key ingredients for providing support
Module 6: Learning evidence-based techniques for providing mental health support
Active listening
Problem solving
Behavioural activation
Module 7: Relaxation techniques
Learning and practising relaxation techniques
Module 8: Practice sessions to support persons in distress
Supporting persons who are grieving and/ or dealing with Anxiety/ Depression
Role plays for practising techniques
Module 9: Knowing more about self-care
Self-care tips and techniques
Application Process & Fee
Participants are required to submit their application forms online. As we have small batch sizes for this course, the team will shortlist the final cohort.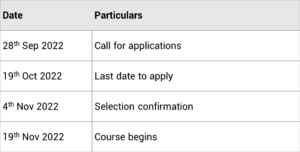 Entry requirements
Open to all, unless specified in the course announcement.
Fee
INR 12,290 + 18% GST
We strongly encourage persons from marginalised and vulnerable communities to apply. We have limited fee waiver seats. Please let us know in the application form if you would need a fee waiver.
20 hours, spread over 5 weekends