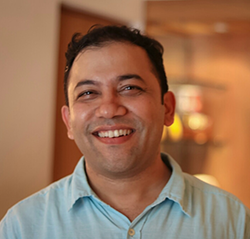 Dr Kaustubh Joag
Kaustubh is a Senior Research Fellow at the Centre, and a project co-lead for Atmiyata. He has worked on Atmiyata since its inception: first, as Co-principal Investigator through its proof-of-concept stage and then as Principal Investigator for the transition-to-scale stage.
He also leads the social franchise model for this project in partnership with MAVIM. Additionally, Kaustubh coordinates the Centre's International Diploma in Mental Health, Human Rights, and Law, and is a practicing psychiatrist. Kaustubh enjoys music, sleeping, and Bollywood movies in his free time.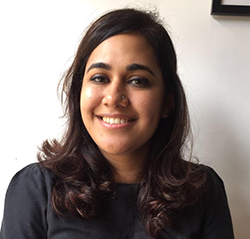 Ms Jasmine Kalha
Jasmine is trained in social work from a gender perspective from Tata Institute of Social Sciences, Mumbai, and has an MPhil in Sociology from the Delhi School of Economics, Delhi University. She has worked on implementing innovative research interventions at scale for mental health and human rights in low resource settings since 2014.
She co-leads the scale-up and implementation of Atmiyata, a large rural community-led intervention to reduce mental health care and social care gap. She leads the UPSIDES (peer support) project in Gujarat, and is involved with the capacity building core of SPIRIT (suicide prevention). She has also co-led projects on recovery and mental health in India. Previously, Jasmine worked on health systems reform through WHO's QualityRights (QR), Gujarat. She continues to provide consultancy services to other LMICs for the implementation of QR, and provides mentorship on the programme's e-learning platform. Jasmine likes to travel and read.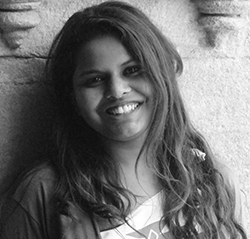 Palak Korde
Palak works on the implementation of the UPSIDES Project at the Hospital for Mental Health in Ahmedabad. Before this, she completed her MA in Anthropology from Savitribai Phule Pune University, and gained experience in the field of research for tribal development. Palak spends her free time playing with dogs, clicking pictures (mostly of dogs), reading, and binge watching Netflix.
Professional interests: Mental health at the intersection of gender and sexuality, feminist anthropology, and inclusive development for tribal communities.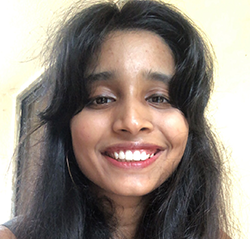 Swetha Ranganathan
Swetha holds a Masters in the Psychology of Mental Health from the University of Edinburgh. She has previously worked with Sangath where she authored an advocacy toolkit for youth mental health amongst other work. Prior to that, she gained experience as a mental health worker in Edinburgh. Swetha is deeply passionate about providing accessible mental health care to vulnerable and marginalised communities and would like to grow and expand her knowledge about stigma and discrimination as barriers of the same. When not working, Swetha is interested in reading fiction, learning new languages, and refining her Japanese skills.
Professional interests: youth mental health, mental health care accessibility, public policy, law, and forensic psychology
Meera Damji
Meera is a communications professional with 18 years of experience in audio and visual media. She has an Honours Degree in Mathematics from Miranda House, Delhi University, and a Post Graduate Diploma in Advertising, Marketing & Communications from Xavier Institute of Communications (XIC, Mumbai).
She has also worked as a Sr. Brand Services Manager at MullenLowe Lintas, Mumbai. Prior to joining the Centre, Meera was a Radio Presenter and Producer with Radio Mirchi, Mumbai (The Times Group) and Ishq FM (India Today Group).
She now leads Communications & Media Research at the Centre and provides support across projects to design and implement effective strategies for communication and outreach.
In her free time, you will find her huddled in with her 4 dogs and a book.
Professional interests: Mental health communication, new media and health communication.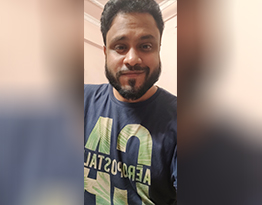 Sufwan Hasan
Sufwan has been involved in the visual arts since longer than he can remember. His passion for good design being accessible to all has brought him to the Centre, where he works on all things graphic. As a part of the Communications Team, he coordinates with Project Leads to help design, illustrate and develop the visual language of the Centre's public facing and internal collateral, striving for visual consistency throughout. In his spare time, he likes to read, game and go chai hopping.
Professional Interests: Visual Communication, Graphics, Type Design & Illustration.
Arti Kulkarni
Arti works on the UPSIDES project in Gujarat at the Hospital for Mental Health, Ahmedabad. She is a forensic psychologist and has previous experience in developing and implementing behavioural and communication-oriented interventions for children with Autism. Arti loves a good conspiracy theory, animated movies, and warm chai.
Professional interests: Recovery-focused interventions in mental health services, sociology, interpersonal relationships.
---