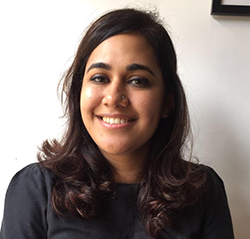 Ms Jasmine Kalha
Jasmine is trained in social work from a gender perspective from Tata Institute of Social Sciences, Mumbai, and has an MPhil in Sociology from the Delhi School of Economics, Delhi University. She has worked on implementing innovative research interventions at scale for mental health and human rights in low resource settings since 2014.
She co-leads the scale-up and implementation of Atmiyata, a large rural community-led intervention to reduce mental health care and social care gap. She leads the UPSIDES (peer support) project in Gujarat, and is involved with the capacity building core of SPIRIT (suicide prevention). She has also co-led projects on recovery and mental health in India. Previously, Jasmine worked on health systems reform through WHO's QualityRights (QR), Gujarat. She continues to provide consultancy services to other LMICs for the implementation of QR, and provides mentorship on the programme's e-learning platform. Jasmine likes to travel and read.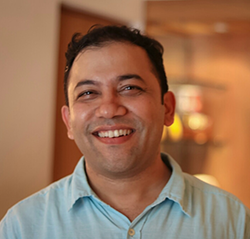 Dr Kaustubh Joag
Kaustubh is a Senior Research Fellow at the Centre, and a project co-lead for Atmiyata. He has worked on Atmiyata since its inception: first, as Co-principal Investigator through its proof-of-concept stage and then as Principal Investigator for the transition-to-scale stage.
He also leads the social franchise model for this project in partnership with MAVIM. Additionally, Kaustubh coordinates the Centre's International Diploma in Mental Health, Human Rights, and Law, and is a practicing psychiatrist. Kaustubh enjoys music, sleeping, and Bollywood movies in his free time.