A resource tool & easy read guide which explains the MHCA's provisions in a simple and easy manner.
The MHCA 2017 App has been created by the Centre for Mental Health Law & Policy, ILS, Pune, with the support of Mariwala Health Initiative.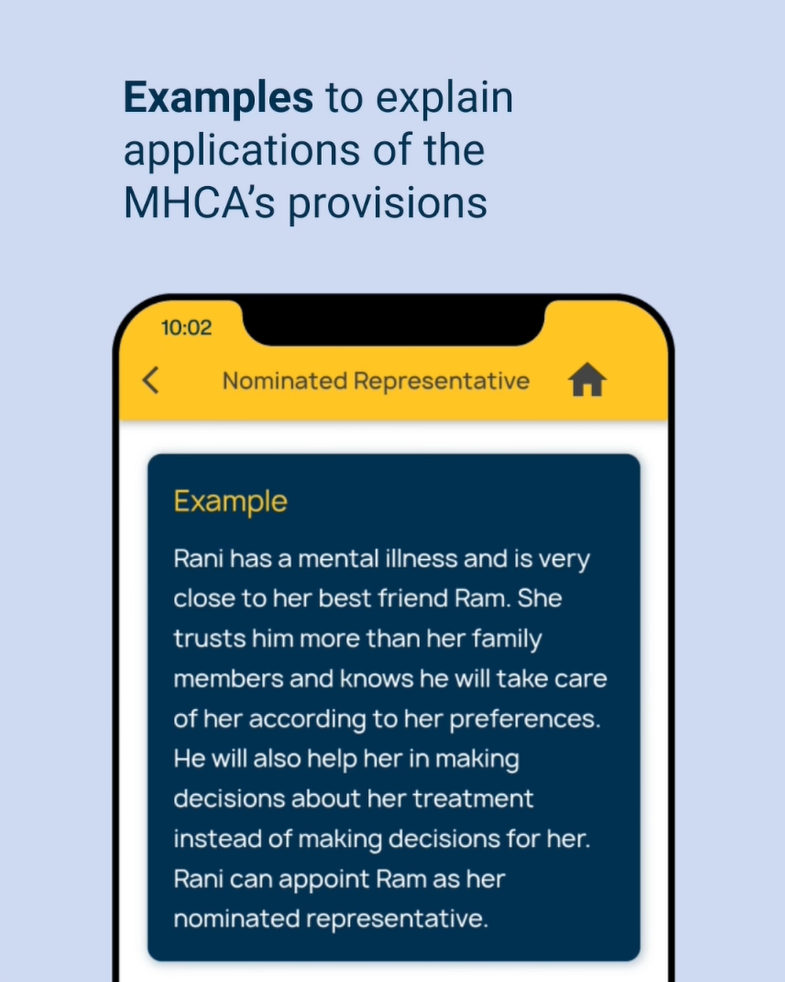 What is the Mental Healthcare Act, 2017?
The Mental Healthcare Act, 2017 (MHCA) is a law which regulates mental healthcare and treatment in India. It lays down the rights of persons with mental illness (service users) and explains the process for submitting complaints in case of rights violations. It identifies the duties of mental health professionals and lays down procedures for how service users should be provided mental healthcare and treatment using rights-based approaches.   
What does the MHCA 2017 App contain?
MHCA 2017 contains the following:
MHCA's provisions explained in an easy and simple manner
Application templates to be filled for different procedures under the law
Directory with available information about mental health authorities, mental health professionals and mental health establishments registered under the law
FAQs by service users, caregivers and mental health professionals
Glossary of important terms and concepts user under the MHCA
Checklists to view important requirements for all treatment procedures under the MHCA
Who is the MHCA 2017 App for?
MHCA 2017 is for:
Service users or persons with mental illness
Caregivers, family members & civil society organisations
Mental health professionals such as psychiatrists, clinical psychologists, psychiatric nurses, psychiatric social workers, medical practitioners and psychiatry/ psychology students
How is the MHCA 2017 App helpful?
MHCA 2017 aims to make the MHCA accessible for service users, caregivers and mental health professionals without them having to read the original law.
It will help different users:
Understand the MHCA's provisions in a simple and easy manner at any time
Learn about the different procedures for mental healthcare and treatment
Understand who to approach in case one's rights are being violated
Identify one's rights and any rights violations while being provided treatment
Use the application templates to draft applications and email them
Find information about mental health authorities, registered mental health establishments and mental health professionals in different States
Access resources to know more about the MHCA and its provisions