Project SIREN Awards
Project SIREN is pleased to announce the award winners for the first edition, 2021:
The Hindu has been awarded the 'Project SIREN Award for Newspapers 2021' for its consistent high performance on the Project SIREN scorecards measuring responsible reporting on suicide between June 2020 and June 2021.
Geetika Mantri, Senior Editor at the The News Minute has been awarded the 'Project SIREN Award for Journalists 2021' for her piece titled 'How the coverage of Sushant Singh's death was a disservice to mental health reportage'.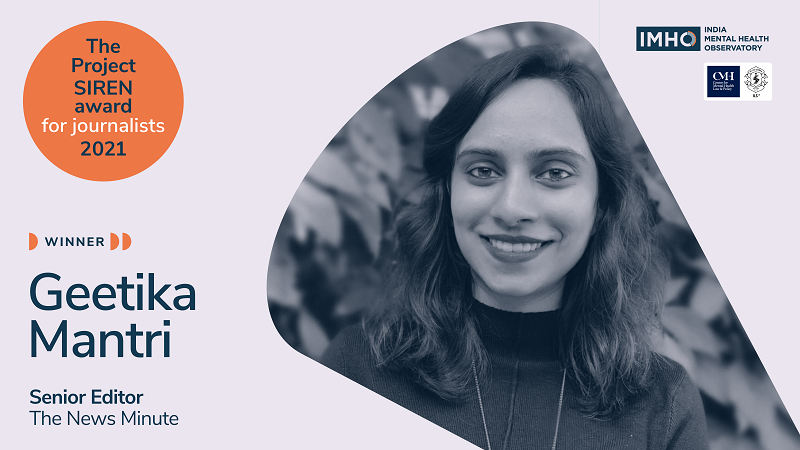 About the Awards
Launched on 10th September 2020, World Suicide Prevention Day, Project SIREN completes one year of assessing media reports on suicide in September 2021. Project SIREN is committed to advocate for better reporting practices on suicide and sees journalists and media persons as crucial allies to support suicide prevention activities. Responsible and sensitive reporting on suicides can help debunk the various myths on suicides, draw attention to the myriad of personal, social and systemic factors that can lead to an individual taking their lives and highlight that suicides are indeed preventable.
In commemoration of the project milestone, Project SIREN is pleased to announce the presentation of two awards, namely:
Award to the Newspaper that performed best on the SIREN scorecard (2020-21)
Award for the most sensitive and responsible report on suicide (based on submissions)
Submission Criteria:
We invite submissions from individual journalists that have reported or written on suicide in the last year. The submission criteria are below:
Any report or story that focuses on one or several aspects of suicide and suicide prevention (news articles, general commentary, op-eds)
Published in English in either a newspaper or an online publication
Published between July 1, 2020 to July 1, 2021
Written by an accredited journalist
**Disclaimer: mental health experts are not eligible for this award.
All articles will be evaluated based on their adherence to WHO guidelines for responsible reporting on suicide, sensitivity to the subject of the report (person, population or issue at-large) and in the language used, balanced reportage and the accuracy/ veracity of the article.
Submissions are open until 15 August 2021. Please send in a copy of your article along with your journalistic accreditation or affiliation details through the application form, here.
Prizes:
Award to the Newspaper that performed best on the SIREN scorecard (2020-21)
Award for the Most Sensitive and Responsible Report on Suicide (based on submissions)

Prize Money: INR 10,000 + Certification + Citation
All submissions for the award will be evaluated by a panel of experts. Meet our panel